.
About Bradford on Avon Museum
Bradford on Avon, Wiltshire
.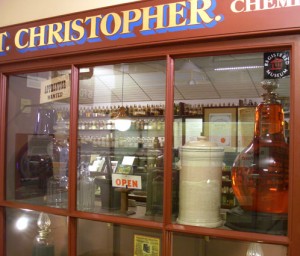 Bradford on Avon Museum Society was founded in 1986, initially in order to preserve the contents of the old Christopher pharmacy. It is a trust that is registered with the Charities Commission and a company limited by guarantee.
Its aims are to collect, preserve, research, display and educate the public about the human and natural history of the town and the area of the former Hundred of Bradford.
Our vision is to explore, understand and share the rich heritage of the Bradford Hundred with its community and with visitors.
Our Mission Statement:
To provide an environment that ensures the long-term sustainability of the Museum by:
Continuing to attract and cultivate scholarship and expertise and promoting innovation
Encouraging and developing the activities of the Museum's interest groups, increasing knowledge, participation and creativity
Interpreting and continuously developing the Museum's collection and displaying it in an engaging and accessible way
Engaging in educational projects which share the history and knowledge of the Bradford Hundred
Seeking collaboration with other organisations to promote and enhance the work of the Museum and benefit the community
Organising and promoting a broad programme of events, special exhibitions, conferences, talks and activities
After four years of fund-raising and discussions the Museum opened in its present premises in Bradford on Avon's new library in September 1990. The space is leased from Wiltshire Council, however the Museum is entirely independent of local government and is staffed exclusively by volunteers.
The Museum publishes a series of booklets on topics related to the human and natural heritage of the Bradford Hundred.
Its funding comes from the subscriptions of Museum Society members, the donations of visitors and occasional grants from Bradford on Avon Town Council, Wiltshire Council, charitable trusts and government agencies.
How can you help?
You can help the work of preserving and displaying Bradford's heritage by:
The Museum receives around 6,000 visitors a year, amongst whom are local people enjoying their heritage and tourists from all over the world who want to learn something about the town and its surrounding area.
Registered Charity 298085
---